Hospitals in Nigeria for Kidney Transplant
Kidney disease and transplants have become an issue of concern in Nigeria. According to statistics, about 45 million Nigeria are battling kidney failure. This figure excludes Nigerians with some levels of kidney diseases like acute kidney disease and chronic kidney disease. Hospitals in Nigeria for Kidney Transplant.
Fortunately, Nigerians do not solely depend on traveling to faraway Indian hospitals to get treated. There are hospitals in Nigeria where Kidney diseases are treated, surgeries, and transplants are done. In this post, we are going to be listing them. We are going to group them into there:
First, we are going to talk about Private Hospitals for Kidney Transplants in Nigeria, Government Owned hospitals for Kidney Transplants in Nigeria and lastly, we are going to list the four best hospitals in Nigeria for Kidney Transplant.
Private Hospitals for Kidney Transplant in Nigeria
There are few privately owned hospitals in Nigeria for Kidney transplants. They are:
1. Primus Kidney Transplant Center

Primus Kidney Transplant center is owned by Prince Sunny Ukachukwu. It is located in Abuja. The hospital offers the following services:
• Nephrology
• Chronic Kidney Disease Clinic
• Hypertension – Renal Care Clinic
• Renal Transplant clinic – Pre-transplant & post-transplant
• Diabetic- Renal Care Clinic
• Patient Education programs & Preventive Nephrology
Contacts: [email protected] Phone Number

+234-8127777751-52
2.

Emeka Okwuosa Kidney Transplant Hospital, Oraifite Anambra StateThe second Kidney Transplant hospital in Nigeria is Sir Emeka Okwuosa kidney transplant hospital. The hospital is situated in Anambra State

.

Emeka Okwuosa kidney Transplant hospital In Oraifite Anambra where Open heart surger

ies and kidney transplants are done. It was singlehandedly built by Sir Emeka Okwuosa. Read also:

Njeri Mbwa Kenyan Biography, Wikipedia, Age, Career, Photos, Family, Networth.

Operations and surgeries have already been carried out on 20 selected patients at Emeka Okwuosa's heart surgeries and kidney transplant hospital at Oraifite. Here are the photos of the hospital.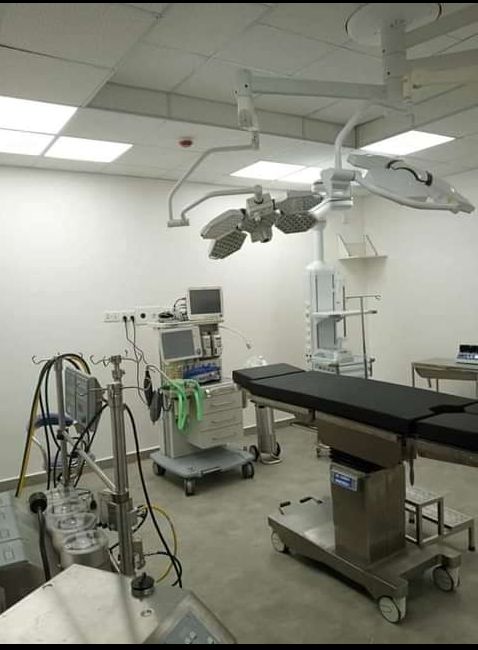 Hospitals in Nigeria for Kidney Transplant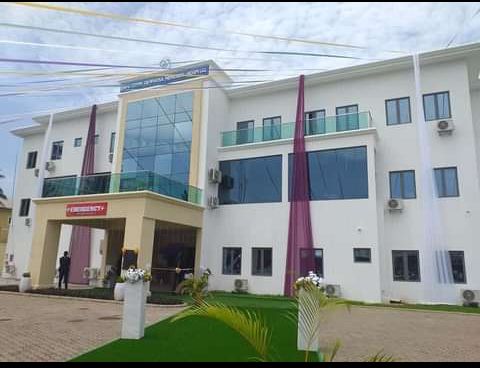 (3) Zenith Medical & Kidney Center - Abuja
Zenith Medical & Kidney Centre Abuja is ranked first on our list of the best kidney centers in Nigeria. Since its inception in 2011, this facility has been known for providing high-quality, low-cost kidney transplant surgery. It is headquartered in Abuja and has affiliates throughout the country.
Zenith Medical & Center focuses on:

Hemodiafiltration and Hemodialysis

Consultation with a nephrologist

Monthly kidney transplantation

Plasmapheresis, ICU, Urology surgery, and consultation

Services for pediatric nephrology
Other medical services, such as cardiology, may be required if co-morbidities exist. From May 2015 to January 2020, they recorded 375 successful kidney transplants, including sickle cell nephropathy, in Abuja. Hospitals in Nigeria for Kidney Transplant
(4) Kidney Solutions Limited (KSL) - Lagos State
The Kidney Solutions LTD, located in the heart of Lagos and offering expert in-center and home hemodialysis care, is regarded as one of the best on the Lagos shores. Their expertise includes detailed medical support for dialysis patients, such as;
Vascular accessibility

Management of dialysis complications, as well as participation in holiday dialysis programs

Plans are in place to include PERITONEAL DIALYSIS SERVICES to expand FURTHER the options for patients with kidney failure.
This center has a proven track record of success. As of December 2017, 14 of their dialysis patients had received successful kidney transplants, with six and eight in Abuja and India, respectively.
(5) St. Nicholas Hospital in Lagos
On March 6, 2000, this hospital performed the first kidney transplant in the West African sub-region. Their fame has since spread throughout the world.
Patients with renal disease can receive complete kidney treatment at this facility. The clinic provides care to people with CKD, transplant recipients, and those on the verge of kidney failure. They offer on-site hemodialysis, pre-kidney transfer counseling, and post-surgery care for both donors and recipients.
This facility has a 10-bed dialysis unit that is comfortable and spacious, as well as high-quality dialysis equipment. There is also a dialysis unit in the intensive care unit (ICU) for patients in critical condition, which is open every day except Sunday. Hospitals in Nigeria for Kidney Transplant
Their success rate can reach up to 80%. And St. Nicholas Hospital attributes this to the precautions taken to avoid organ rejection and to ensure the patient's stability before surgery. The facility also attributes the majority of recorded failures to the patient's age. To limit this, they do not perform transplants on people over the age of 65.
St. Nicholas Hospital has a partnership with India, and these partners are mostly present during all transplant surgeries, along with other indigenous doctors. Patients can also expect continuous post-surgery follow-up from board-certified kidney specialists as well as other members of the healthcare team such as dieticians, nurses, and pharmacists.
Hospitals in Nigeria for Kidney Transplant
The following is a list of government-owned kidney transplant centers in Nigeria.
(1) Lagos State University Teaching Hospital (LASUTH)
LASUTH Kidney Transplant center has so far performed eight kidney transplants. In 2016, I performed a second successful transplant on a 41-year-old police officer. His 41-year-old brother was the donor. The surgery was successful for both the recipient and the donor.
The transplant cost 4.5 million Naira, according to the hospital's chief medical director, who announced the surgery to reporters.
(2) Federal Medical Centre Umuahia
Federal Medical Centre Umuahia Transplant center is widely regarded as the site of the first kidney transplant in South-Eastern Nigeria. Mr. Oji Ogbonaya Ule, a 37-year-old businessman who had been battling kidney disease for four years, was the first patient to receive a new kidney. His new kidney was donated by his 58-year-old uncle, a civil servant, for which he reportedly paid #5.5 million Naira.
Hospitals in Nigeria for Kidney Transplant
(3) Lagos University Teaching Hospital (LUTH)
In 2011, the Lagos University Teaching Hospital performed the first successful kidney transplantation surgery on a thirty-eight-year-old woman. Since then, they have performed a number of successful renal transplants. The cost of a kidney transplant at LUTH is N8 million Naira.
(4) Uthman Danfodio University Teaching Hospital, Sokoto
Fuctionality of Uthman Danfodio University Teaching Hospital, Sokoto is not yet open to the public.
(5) University of Nigeria Teaching Hospital, Enugu
This hospital is located in Ituku-Ozzalla, Enugu State. The first successful kidney transplant was performed by the University of Nigeria Teaching Hospital (UNTH) in 2008, and they have been doing so ever since. The cost of a kidney transplant at UNTH is #3.5 million, which includes 6 months of immunosuppressive drugs.
(6) University of Maiduguri Teaching Hospital
In September 2010, the university of Maiduguri teaching hospital (UMTH) performed Nigeria's first kidney transplant on 31-year-old Suleiman Usman in collaboration with the Bayero University Teaching Hospital in Kano and the Obafemi Awolowo University in Ile-Ife. His brother Abubakar Usman donated the kidney at the university kidney centerThe cost is $5 million.
(7) Obafemi Awolowo University Teaching Hospital:
This hospital performs the most kidney transplants in Nigeria. In June 2020, the OAUTH, Ile-Ife, was the first teaching hospital to perform an indigenous kidney transplant. According to the hospital's chief medical director, the facility has performed 15 kidney transplants and more than 70 open heart surgeries with no complications. They recently upgraded their facilities to improve patient care. You can have a successful renal transplant in OAUTH with #6.5 million.
(8) Aminu Kano Teaching Hospital:
Nigeria's most successful government-owned kidney transplant facility, with 19 successful transplants. The cost of a kidney transplant at Aminu Kano Teaching Hospital, including drugs, is #5.5 million.
(9) Delta University Teaching Hospital (DELSUTH):
A News source reported in 2014 that DELSUTH performed its first successful kidney transplant. However, they have not been consistent with the renal transplant programs for the past seven years. In any case, dialysis at this facility is heavily subsidized by the state government or indigenes. DELSUTH performed its first renal transplant for a fee of $6 million.
(10) Ibadan University College Hospital (UCH)
The University College Hospital Ibadan rounds out our list of the best kidney centers in Nigeria. Since the first successful kidney transplant at UCH in 2008, the hospital has gained a reputation for achieving more such feats.
A study conducted at the facility in 2017 included 26 transplant patients receiving care at the cent. Four of the hospital's transplant patients were doing well and responding well to treatment. Cost of renal transplant in UCH is #7.5 million plus drugs.
This hospital also houses the Owena dialysis center, which has high-quality facilities, knowledgeable staff, and stringent measures in place to ensure that patients have the best hemodialysis experience possible. Many people attest to the high quality of service and improved kidney function.
Hospitals in Nigeria for Kidney Transplant
History of First Kidney Transplant In Nigeria Hospital
Dr. Abali Chuku, Medical Director of the Federal Medical Centre (FMC) Umuahia, returned home with a big dream after visiting the University of Toledo, Ohio in the United States of America in January 2017. He intended to begin kidney transplantation at God's Own State's federal health facility. But few people paid attention to his audacious declaration, which he made during a press conference in his office. Skeptics, on the other hand, did not have to wait long. By December 2017, FMC Umuahia had successfully completed two kidney transplants, with the recipients now living with new kidneys obtained from donors and transplanted into their bodies to replace malfunctioning organs.
Mr. Oji Ogbonanya Ule, a 37-year-old businessman who had been suffering from kidney disease for four years, was the first patient to receive a new kidney. His new kidney was donated by his 58-year-old civil servant uncle. After a 10-hour surgical procedure that involved harvesting and transplanting the kidney on the night of December 7 and the morning of December 8, 2017, the harvested kidney was given a new home in Ule's body. The other patient on the list of Umuahia's pioneer kidney transplant recipients is a 68-year-old medical doctor whose own kidney problem was discovered four months before the surgery. He received a new kidney from a security guard who is a relative.
Making it possible for patients with failing kidneys to receive replacements has distinguished FMC Umuahia as the first medical facility in Nigeria's South-east and South-South zones to perform the complex medical procedure. It entails removing a kidney from the donor and transplanting it into the recipient's body. It was thus a huge relief for those suffering from kidney diseases, as treatment has finally become accessible and affordable.
Ule stated this after completing the medical procedure of receiving a new kidney. He added, "We also thank God for using the medical team to save our lives." "They (FMC Umuahia) provided a wonderful opportunity for poor people like us without the means to go abroad for transplantation," he said.
Previously, any diagnosis of kidney disease was a death sentence for the patient in this part of the country due to a lack of facilities to treat renal problems. Fear and anxiety about kidney disease are more prevalent among the poor, who cannot afford the high cost of a kidney transplant abroad or in any of the few medical facilities that provide the services in Nigeria. The kidney problem is one of the major health issues that drive Nigerians to travel abroad for medical treatment, putting a strain on the country's foreign reserves.
Hospitals in Nigeria for Kidney Transplant
Chuku's exposure to the University of Toledo's medical excellence and global reputation in kidney transplants inspired him to initiate the process of replicating it in Nigeria's Southeastern region. A few medical institutions already have kidney transplant facilities, most notably St. Nicholas Hospital Lagos in the southwest and Aminu Kano Teaching Hospital Kano in the north.
According to Chuku, the idea of establishing kidney transplant services at FMC Umuahia came to him in 2015, when he was honored alongside others from various countries by the University of Toledo Ohio USA. "This University (Toledo) is well-known throughout the world for kidney transplantation." After being inducted into the university's Hall of Fame, I was asked what I would like the university to do for me, and I chose to establish a Kidney Centre "Chuku stated.
The kidney transplant facility at FMC Umuahia was not established overnight. Chuku meticulously planned and carried out the project. Its journey began in 2015, following his induction into the Medical Mission Hall of Fame at the University of Toledo Medical Center, which is internationally renowned for its expertise in kidney transplants. Chuku was also named a University of Toledo Distinguished Global Faculty Member. Chuku made a wish after receiving the honors. He requested assistance in order to establish a facility at FMC Umuahia to provide kidney transplant services.
As a result, a Memorandum of Understanding (MoU) was signed between the University of Toledo and the Federal Medical Centre, Umuahia, before he returned to Nigeria following the award ceremony. It didn't take long for the two institutions' Memorandum of Understanding to be activated. Chuku sent a team of medical personnel to Ohio in April 2017 to observe live kidney transplantation at Toledo University's Medical Center. They also spent time learning the fundamentals of the complex nature of kidney transplantation so that when the procedure begins at FMC Umuahia, it will be familiar to them.
Dr. Obi Ekwenna of the University of Toledo Medical Centre, a Nigerian-American physician, is at the forefront of bringing kidney transplantation services to FMC Umuahia. He oversaw the surgical team that performed the kidney transplants. Dr. George Okwudili Acho, Dr. Mgbeojedo Chizoba, Dr. Victor Ezieule, Dr. Paul Ngwu, Dr. Daberechi Ngwu, and Dr. Chimezie Okwuonu were also members of the FMC Umuahia medical team. The success of the first phase of the kidney transplant project prompted the surgeons and management of FMC Umuahia to begin the second phase.
In January 2018, the surgeons returned to the operating room and performed two more kidney transplant operations with resounding success. Chuku's projections for the medical project were correct. He had promised that 40 kidney transplant procedures would be performed at the FMC Umuahia this year.
He stated that 20 kidney transplants would be performed in the first half of 2018, with the remaining 20 completed in the second half of the year. The outcomes are very encouraging. Chuku praised the team leader, Dr. Ekwenna, for his leadership role in the kidney transplant initiative at the FMC Umuahia. Mr. James Ogbuka Umekwe of Ozu Abam, Arochukwu Local Government Area, Abia State, who donated large consumables to the Kidney Centre, was also recognized.
Hospitals in Nigeria for Kidney Transplant
The Medical Director explained that the kidney transplantation services are part of a skills transfer project that FMC Umuahia hopes to run for four years, during which time the Centre will fully optimize the transferred skills from the partnership with the University of Toledo Medical Centre.
The federal government has taken note of the medical breakthrough at FMC Umuahia. Professor Isaac Adewole, Minister of Health, visited the federal health institution during the second phase of the kidney transplant to see for himself. He paid a visit to the two kidney recipients and their donors while they were recovering in the Intensive Care Unit, and he also met and congratulated the medical team and hospital administration on yet another kidney transplant success. The minister described the FMC Umuahia, led by Dr. Abali Chuku, as an up-and-coming federal medical institution that makes the government proud with its breakthroughs, thus justifying the government's investments in the health sector. "I am always delighted to visit this hospital, and I am particularly impressed by its breakthrough in kidney transplantation," Adewole said during his visit.
He was so taken with the fast-paced developments at FMC Umuahia that he couldn't help but refer to the MD, Dr. Chuku, as a "Magician." The name has stuck with the MD as a nickname and a testament to his professional and managerial abilities in running the FMC Umuahia. The Health Minister also met with the surgical team, congratulating them on their accomplishments at the FMC Umuahia and promising the federal government's continued support to help the federal medical institution fulfill its mission. The medical team has grown to include Drs. Erondu Nosike, Orji James, Imaghigbe Frank, Chukwu John, and Nwokorie.
Ekwenna, the team leader, attributed the success of the kidney transplant procedures to the hard work and dedication of the medical team he worked with, adding that the combined efforts of all surgical team members were required for success in such a complex surgical procedure. He was pleased with the surgical skills of the Nigerian surgeons, who he said required little guidance to perform a successful kidney transplant.
Aside from the dedication of the surgical team, the US-based surgeon also praised the management of FMC Umuahia, led by Dr. Chuku, for the manifest vision and commitment that was brought to bear in realizing the medical breakthrough. "Dr. Abali Chuku is a capable and dedicated leader." We met a few years ago, and he expressed a desire to establish a transplantation center in South-East Nigeria at his FMC, and I promised to help with my team in Toledo "Ekwenna spoke about the origins of the journey to establish a kidney transplant facility in Umuahia.
A kidney transplant procedure usually entails two surgical procedures, one on the donor and one on the recipient. It is possible that the organ will be rejected by the new body. However, Ekwenna stated that both the donors and the recipients were doing exceptionally well, assuring the donors, whom he referred to as heroes, that they would live their everyday normal lives.
Dr. George Okwudili Acho, a member of the medical team involved in the kidney transplant, stated that the MD had shown a great deal of dedication and perseverance in the kidney transplant project. He thanked God for blessing Dr. Chuku's efforts with success.
Acho also stated that the FMC Umuahia has continued to reap bountiful fruits from Chuku's vision of medical excellence, which has led to a significant improvement in the various departments of the FMC Umuahia. He mentioned the operating theater, wards, laboratories, and radiological services, among other facilities that were all upgraded to an acceptable standard before the kidney transplant project began.
Hospitals in Nigeria for Kidney Transplant
The kidney transplant project also positively impacted the federal medical facility's internal road network. The hospital's entire road system was upgraded and resurfaced. The surgeon expressed confidence that the hospital's proposed National Sovereign Wealth Investment Authority Laboratory would improve standards and services even further.
FMC Umuahia's breakthrough in providing kidney transplant services is very good news for patients suffering from malfunctioning kidneys, particularly in the Southeast and South-South zones. They would no longer have to travel long distances to get medical care. Furthermore, the cost of the medical procedure has been significantly reduced. It is estimated that a kidney transplant can cost up to N10 million.
However, Chuku stated that FMC Umuahia's vision is to make kidney transplants in the facility the cheapest in the country. He stated that the first recipients of the kidney transplant receive the services free of charge and that the hospital's Kidney Foundation hopes to subsidize each transplant to less than N3.5 million, making it far less expensive than other medical centers in Nigeria. According to the doctor, kidney disease affects about 7% of admitted patients. He, therefore, urged well-meaning Nigerians and philanthropists to support the cost of kidney transplantation, emphasizing that kidney transplant is less expensive in the long run than Renal Dialysis.
Kidney disease is one of the most serious illnesses that can be fatal, and it imposes a significant financial burden on the patient, whether through dialysis as a stopgap measure or an outright kidney transplant. High blood pressure, changes in the quantity and frequency of passing urine, changes in the color of urine, pain in the kidney areas, tiredness, loss of appetite, sleeping difficulties, and headache are all symptoms of kidney disease, according to a medical encyclopedia.
Loss of concentration, itching, shortness of breath, bad breath and a metallic taste in the mouth, muscle cramps, nausea and vomiting, and pins and needles in the fingers and toes are some of the other symptoms. When a patient can afford the cost of a kidney transplant, finding a donor willing to donate one of his or her kidneys becomes a challenge. As a result, Chuku was effusive in his praise for the courage of the kidney donors and members of their families in donating one of their kidneys. This gesture has enabled recipients of new kidneys to begin living new lives with functional kidneys.